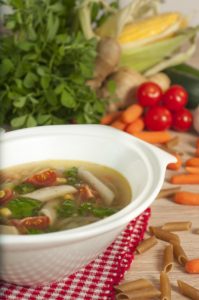 Celebrate fall with a tasty, hearty soup! This time of year, it is easy to find carrots, cauliflower, turnips, onions, broccoli, cabbage, kale and potatoes. All of these vegetables add vitamins, minerals, and nutrients to your diet.
Ingredients:
2 carrots, grated or cut into slices
2 onions, chopped
1 tomato, chopped or 1 can of diced tomatoes
Left-over or frozen vegetables, such as green beans, broccoli, cauliflower, green peas, corn, etc.
6 cups of water (beef or chicken broth, tomato juice or V8 juice can be used in place of water)
Meat, cut up, such as cooked chicken or turkey, cooked and crumbled hamburger (optional)
½ cup of uncooked pasta (elbow macaroni, shells or rings), rice, or barley (optional)
Seasonings including pepper, basil, tarragon, a bay leaf (Remove bay leaf when cooking is complete.)
Directions:
Grate or chop the vegetables by hand or in a food processor.
Put all of the ingredients in a large saucepan. Bring to a boil. Reduce heat and cover the soup.
Simmer for 1 to 2 hours. Check the soup often and add water as needed.
This soup recipe makes about 10 servings. Leftover soup can be stored in containers and frozen to use for future lunches or dinners. Toast, crackers, or rolls can be served with the soup.