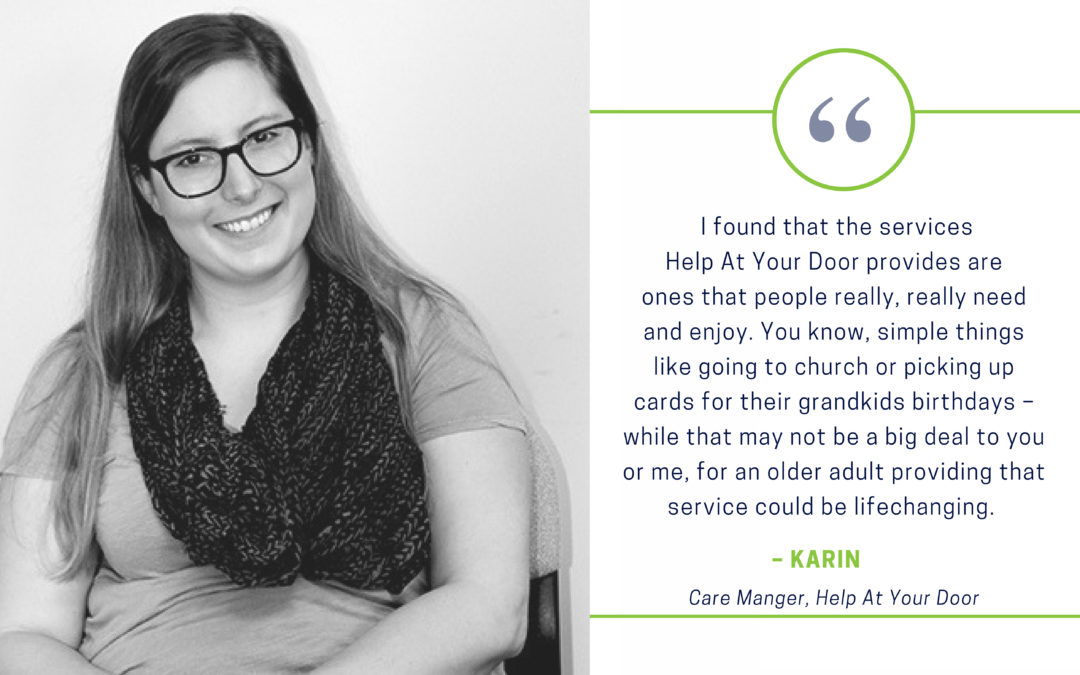 ---
We sat down with our new Care Manager, Karin Lubanovic, to learn more about her expertise and commitment to older adults in Minnesota. Karin is a licensed social worker and has experience in case management, program development, and helping people remain connected to their communities. She recently earned her Master of Arts in Social Work from Augsburg University in Minneapolis.
---
Who or what inspired you to do what you're doing now?
I've been a social worker for four years. My mother was a public health nurse who really enjoyed helping clients in their homes.  Her work inspired me, and I knew that I wanted to go into a similar field. After taking a class in college called, "I Want to Help People," I realized that social work was the best fit for my interests and skills.
Can you share a little about your expertise in working with older adults?
Growing up in Minnesota, I was fortunate to be able to spend a lot of time with the older adults in my life. I noticed that my grandparents had a lot of support and often wondered what would happen if that was not the case. Through my personal life and career, I have found that quite a few people have a piece or two of the puzzle missing when it comes to aging well. For instance, my grandmother – living in Pennsylvania – had her health and some stability, but we realized the one piece she was missing was a sense of community and belonging. She was suffering from isolation. I helped move her to a memory care unit in Minnesota so that she could be closer to family and receive dementia support.
Also, after spending time working within the school district helping youth foster positive relationships, I connected with the Somali population and found that I really enjoyed working with elders in their community. This led me to take a job as a UCare Care Coordinator where I ran their waiver programs through the state, helping older adults receive services such as adult daycare, homemaking, and more. I really liked working with different cultures and after a few years in the field, realized that there was so much more to learn. I really wanted to grow in my own right so I went back to school for my Masters where I focused on older adults and healthcare.
What surprising lessons have you learned along the way?
One of the largest lessons for me is to appreciate each person's unique perspective. People make their own decisions, and while sometimes it is not what I would do or recommend, I really enjoy providing an avenue to help people meet their individual needs in a way that works within their lifestyle. As much as I may think that I know the best answer and have experience navigating a wide variety of situations, people always surprise me and have unique perspectives – it's nice for me to be able to honor that.
What attracted you to this organization in particular?
After my case management experience, I found that the services Help At Your Door provides are ones that people really, really need and enjoy. You know, simple things like going to church or picking up cards for their grandkids birthdays – while that may not be a big deal to you or me, for an older adult providing that service could be lifechanging. And I think going from the intense one-on-one work with individuals to a role where I can focus on improving systems and processes to make sure that our clients have the best experience possible is one that I can embrace and make a significant impact.
What is one misconception that often comes up about aging?
I think one I've heard a lot is that aging is negative. That it is a bad thing. Now, certainly people have their own challenges and struggles and it's important to honor that for those who may experience chronic pain or are grieving due to the loss of loved ones, but I think our perspective and attitude about aging play a critical role in our health and wellbeing. There are challenges that come with getting older, but there is also a lot of good. When aging is looked at as a privilege, that perspective can manifest itself in people's lives.
What motivates you to stay involved?
This mission – to help people continue living in their homes, is important to me. The individuals that we help and their stories keep me engaged and motivated.